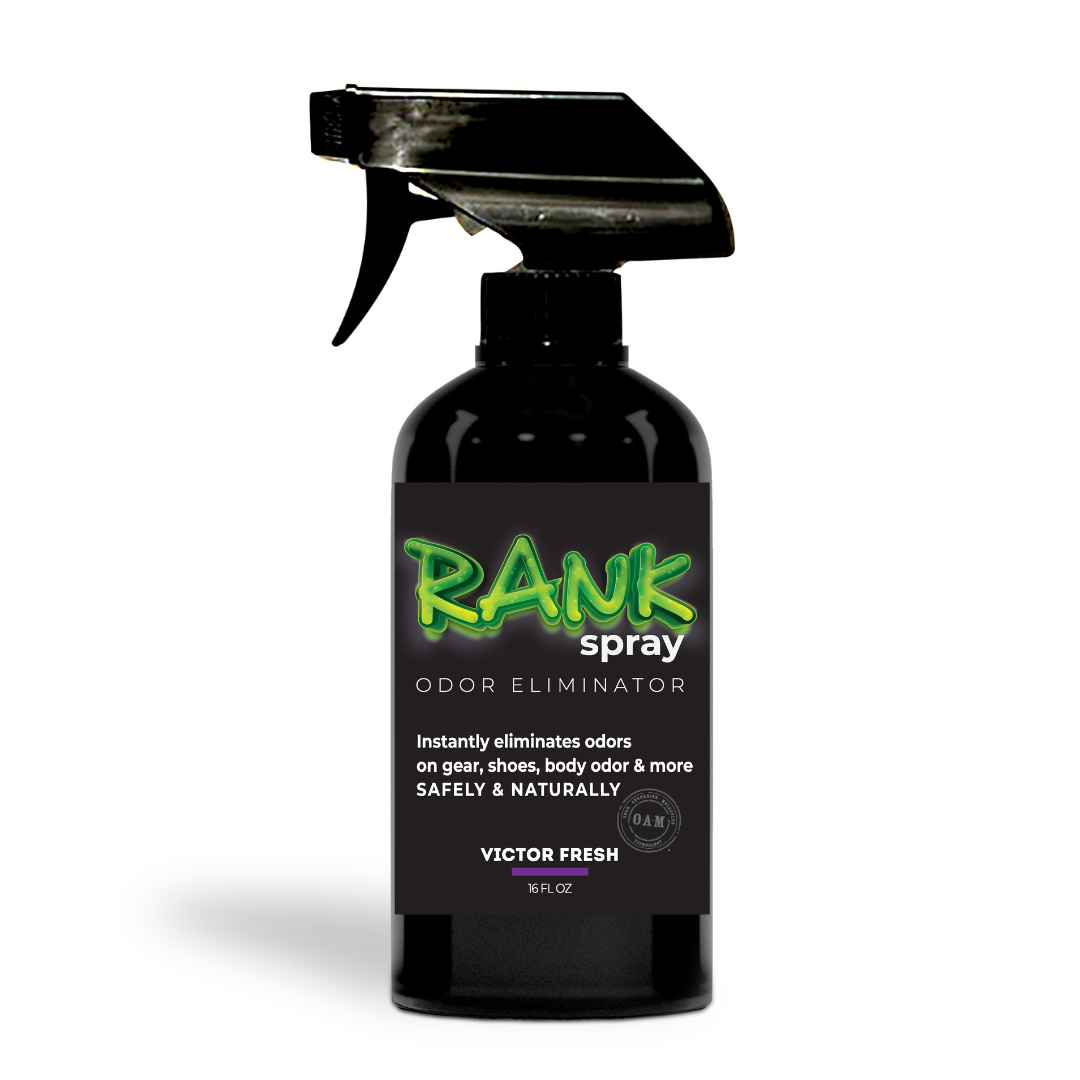 Refresh your gear with Rank Spray
Rank Spray works on all equipment, apparel, sweat and body odors, and more. It's scientifically formulated to eliminate bad smells resulting from an active lifestyle.
Shop Now
GLOVES – Lacrosse, Hockey, Boxing, Ski

SHIN GUARDS – Soccer, lacrosse, football, baseball, ice hockey, field hockey, cricket, biking

KNEEPADS - Volleyball

CHEST PROTECTOR – baseball, lacrosse

FOOTWEAR – Shoes, cleats, boots, skates, ballet slippers, sandals

HELMETS – biking, ski, football, hockey, baseball, softball, lacrosse, horseback riding,
skateboarding, inline skating, skiing, snowboarding

BALLS

GYM BAGS

ATHLETIC APPAREL

WEIGHT LIFTING STRAPS

TOWELS

PADS & MATS

BAGS & BACKPACKS

LOCKER ROOMS

VEHICLES

HATS
Eliminate odors. Don't mask them!
Rank Spray is scientifically formulated by a chemical engineer (our boy Paul) using proprietary Odor Absorbing Molecules (OAM). (Check out the About Page.) It's designed to tackle the toughest odors and instantly refresh your gear.
Finally, you can leave the stink outside, on the field, in the gym, at the court-and set your scent free!
Smell it. Rank it. Spray.
Natural

Rank Spray is vegan, biodegradable, non-toxic and without harmful chemicals, enzymes or nerve agents. It is medical-grade material, and safe to use anywhere.

Safe

No bad stuff! No more worrying about harmful chemicals touching your skin or entering your lungs. Safe for kids and pets. Breathe easier with Rank Spray using OAM.

Guaranteed

Rank Spray does more than just mask odors. It bonds with the order, absorbs it, breaks it down which then eliminates it. 100% guaranteed.